Benefit with PRECISION
---
Instead of a loose collection of hobby tools, what your business really needs is a complete set of professional-quality, precision tools.
Business software needs to address exactly those neuralgic points in your company where the need is greatest. On top of that it should be quick and easy to install with one standard version. We could not agree more. Not only that, we go a step further and want you and your employees to genuinely like working with our software :
One product - full integration
mesonic business solutions are released in one standard version that has an enormous capacity for integration and that contains a wide scope of features. Our software is simple, fast and can be individually adapted to each and every task and department in your company.
Decades of business experience
We have been amassing and perfecting business wisdom for SMUs for many types of businesses for the past 35 years. That is why we understand and appreciate your everyday business environment.
Added value without added costs
Many of the features in our software arise from the knowledge and desires of our customers and their specific business sector. All these functions are made available to each and every mesonic user. And it doesnt cost you an extra cent.
Benefit with YOUR SUCCESS
---
mesonic solutions are designed to work in concert. You can choose the instruments and the number of players, e.g., start with an ensemble and expand as your company grows to an orchestra.
A business software package really proves its worth when it can be flexibly adapted and customized to fit the size of your company and its number of users. Business software solutions from mesonic offer the best of both worlds: products with one standard version, already configured for use in nearly all lines of business, and which can be easily adapted to fit the exact demands of the users in your company.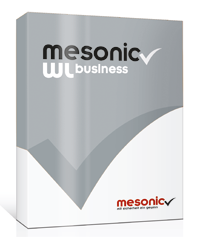 WinLine Business
the modular ERP and CRM solution for
your company
View details »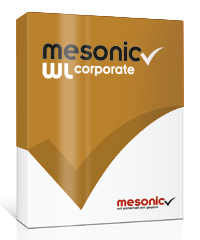 WinLine Corporate
the complete ERP and CRM solution for mid-sized companies
View details »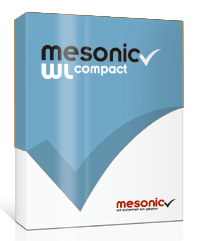 WinLine Compact
the tailor-fitted ERP solution at monthly fixed price per user
View details »
mesonic mobile solutions enhance those omnipresent companions in today's business environment, mobile devices like smart phones and tablets, with bundled packages of added usefulness - a true advantage in making company processes faster and more efficient and in enabling you to make business decisions based on real data anywhere and anytime.
Local network clients
Stabile, fast and secure network clients – you will soon come to appreciate the advantages of mesonic business software installed on your local network.
Intranet/Internet access
Just an internet connection with a browser gives you and your employees access to the full scope of functions in your mesonic ERP and CRM solution.
Smartphone/Tablet App
Stay one step ahead – your external sales reps, as well as company managers, are connected online on their mobile devices with the live data in your WinLine installation.
mesonic business software solutions offer flexible, individualized SMU features for many kinds of business sectors. They adapt to your organization and not vice versa, making the software fit your company. Data synchronization with Microsoft Office programs and the generation of mass mailings, emails and calculations is no problem in WinLine.