ERP Packages with Pricing
---
2 User Package with Pricing
The exclusive mesonic launch package for the Philippines includes the essential modules to fulfill the every day demanding requirements in finance, sales, invoicing, purchasing and inventory management. This entry level ERP Package is ideal for small and medium enterprises and has the ability to grow with your business.

Financial Accounting with
Balance Sheet, Income Statement, Check Payment
Foreign Currency
Cash Book | Petty Cash
Sales Order Entry and Invoicing
Inventory and Materials Management
Purchasing and Procurement
System Tool Package
Network Installation with 2 - User License

Further inclusions
Two Clients Network Installation
Setting up of one company, COA, AP/AR
Customization of Forms Invoice, Delivery Receipt and PO
Pre-Customized Forms included Check Voucher, Journal Voucher, Checks
User Training 2 User (3 days)
Administrator Training 1 Admin (2 days)
Software Maintenance and User Support included until December 31, 2018
5 User Package with Pricing
The exclusive mesonic launch package for the Philippines includes the essential modules to fulfill the every day demanding requirements in finance, sales, invoicing, purchasing and inventory management. This entry level ERP Package is ideal for small and medium enterprises and has the ability to grow with your business.

Financial Accounting with
Balance Sheet, Income Statement, Check Payment
Foreign Currency
Cash Book | Petty Cash
Sales Order Entry and Invoicing
Inventory and Materials Management
Purchasing and Procurement
System Tool Package
Network Installation with 5 - User License

Further inclusions
Five Clients Network Installation
Setting up of one company, COA, AP/AR
Customization of Forms Invoice, Delivery Receipt and PO
Pre-Customized Forms included Check Voucher, Journal Voucher, Checks
User Training 5 User (5 days)
Administrator Training 1 Admin (2 days)
Software Maintenance and User Support included until December 31, 2018
10 User Package Pro with Pricing
The exclusive mesonic launch package for the Philippines includes the essential modules to fulfill the every day demanding requirements in finance, sales, invoicing, purchasing and inventory management. This entry level ERP Package is ideal for small and medium enterprises and has the ability to grow with your business.

Financial Accounting with
Balance Sheet, Income Statement, Check Payment
Foreign Currency
Cash Book | Petty Cash
Sales Order Entry and Invoicing
Inventory and Materials Management
Purchasing and Procurement
System Tool Package
Network Installation with 10 - User License

Further inclusions
Ten Clients Network Installation
Setting up of one company, COA, AP/AR
Customization of Forms Invoice, Delivery Receipt and PO
Pre-Customized Forms included Check Voucher, Journal Voucher, Checks
User Training 2 batches of 5 User (5 days)
Administrator Training 2 Admin (3 days)
Software Maintenance and User Support included until December 31, 2018
Benefit with WinLine
---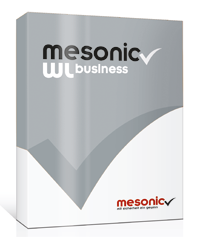 WinLine Business
the modular ERP and CRM solution for
your company
View details »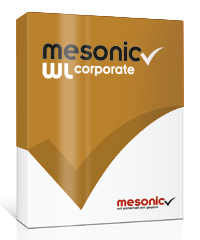 WinLine Corporate
the complete ERP and CRM solution for mid-sized companies
View details »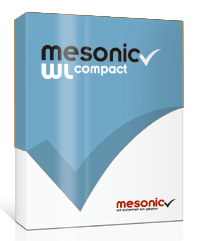 WinLine Compact
the tailor-fitted ERP solution at monthly fixed price per user
View details »
Benefit with YOUR SUCCESS
Our solutions are designed to work in concert. You can choose the instruments and the number of players, e.g., start with an ensemble and expand as your company grows to an orchestra.
A business software package really proves its worth when it can be flexibly adapted and customized to fit the size of your company and its number of users. Business software solutions from mesonic offer the best of both worlds: products with one standard version, already configured for use in nearly all lines of business, and which can be easily adapted to fit the exact demands of the users in your company.
Local network clients
Stabile, fast and secure network clients – you will soon come to appreciate the advantages of mesonic business software installed on your local network.




Intranet/Internet access


Just an internet connection with a browser gives you and your employees access to the full scope of functions in your mesonic ERP and CRM solution.



Smartphone/Tablet App


Stay one step ahead – your external sales reps, as well as company managers, are connected online on their mobile devices with the live data in your WinLine installation.